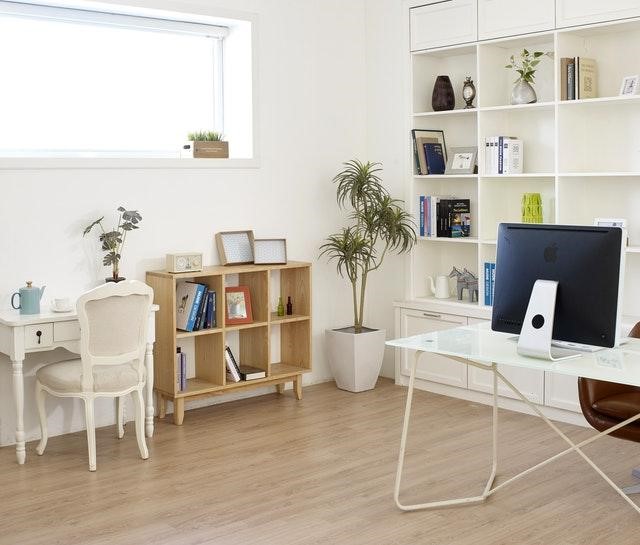 Image via Pexels
Life doesn't stop just because you are putting your home on the market-- especially if you have kids. So, on top of juggling work, school, and all the little extras you face day to day, you also have to find time to stage your home. Home staging is an essential part of selling your house. It involves highlighting the best features your property has to offer while creating an atmosphere that is attractive to buyers. Best of all, staged homes sell 88 percent more quickly and for 20 percent more than homes that are not staged, so you know it's worth it to put the work in.
Some people prefer not to do the home staging work themselves and hire a professional instead. However, the cost of a home stager can be pretty steep. Staging your home yourself is a great way for parents to save money that is better used elsewhere.
Clear Out the Clutter
To get your house in a show-ready state, the first thing you have to do is declutter. Think about any model homes you have seen: were the shelves packed tight with books? If you opened a cabinet, would you see a collection of mismatched plastic cups for kids? How about the closet-- did you see many clothes in there? No, of course not. A staged home only has the bare minimum amount of stuff that the house can hold. That's what you want to do with your property-- clear out the clutter.
Rent an offsite storage space where you can keep things you want to take with you to your new house once your current one sells. Not only does this open up room in your home, but it also cuts down on the amount of time you'll spend packing in the future. Have the kids help with clearing out their toys, books, games, puzzles, and clothes. Anything they've grown out of or don't want anymore can be donated. Give yourself a few weeks to complete this project. While it may seem like a simple task, making tough decisions about what to keep and what has to go can be stressful.

Add Some Lively Decorations
Ever since The Washington Post declared that young urbanites are "filling their home-- and the void in their hearts-- with houseplants," the jungalow trend has been in full swing. Adding houseplants is a great way to bring a little life into your home. Plants are colorful and low maintenance, and perhaps best of all, they have multiple health benefits. Once your home is de-cluttered, stop by a local nursery and pick up additional accent plants on top of the ones you already have. Place them in key areas to which you want to draw focus. Don't be afraid to get creative with your houseplants and consider placing them in rooms where we don't often think to put them, like the bathroom.
Strip the Windows
Sure, those blackout curtains are great for sleeping in late, but if you are putting your house on the market, it's time to bring in the light! Taking down curtains and drapes is an easy way to make your home look larger and cleaner. Furthermore, curtains can be a very personal decorating choice. If a buyer walks into your property and doesn't like your drapes, they may carry that feeling of dislike with them throughout the house. Taking them down now eliminates that possibility altogether.
****
Staging your home means you can sell it more quickly and for more money, but as a busy parent, you likely don't have room in your budget to hire a professional to do it for you. That's okay! Staging your home yourself can have just as big of an impact. Declutter every room so it looks like a model home. Add some decorative plants to bring life inside and draw attention to your home's best assets. Finally, increase the amount of natural light by removing curtains and drapes that block it out.